Click on the button below to schedule a DOT Physical examination online

DOT Physical Exam with Medical Card fee is $90.00



NEW Summer Clinic Hours:
Tuesday 7:15 am- 4pm
Wednesday 7:15 am- 5pm
Thursday 7:15 am- 4pm
Saturday 8:00 am- 10am

---
---
Daily appointments for
:
DOT Physical Exams
Hydraulic Licensing Physical Exams
Bus Driver Physical Exams
On-Site Drug Testing (eScreen)
Breath Alcohol Testing (Evidential)
Pre-Hire Physical Assessment
Lift Testing
Audiometric Testing
Visual Acuity Testing
and more...
---
---
Drug screen results in as little as 15 minutes!

We are located at:

Gateway Chiropractic & Occupational Health Center
435 Lancaster St, 2nd floor, Suite 214 A.
Leominster, Massachusetts.
The Gateway Building.
TEL/FAX 978-728-3001


---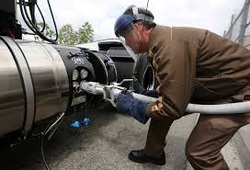 Have 10 or more employees that need DOT physicals?

Call today, we come to you!

978-728-3001
---
Who Needs a DOT Physical?
You are required to have a physical exam and carry a U.S. Department of Transportation (DOT) medical certificate if:


You operate a motor vehicle with a gross vehicle weight rating (GVWR) or gross combination weight rating (GCWR) or gross vehicle weight (GVW) or gross combination weight (GCW) of 4,536 kilograms (10,001 pounds) or more in interstate commerce.
You operate a motor vehicle designed or used to transport more than 15 passengers, including the driver, in interstate commerce.
You operate a motor vehicle designed or used to transport between nine and 15 passengers, for direct compensation, beyond 75 air miles from your regular work-reporting location, in interstate commerce.
You transport hazardous materials in quantities requiring placards, in interstate commerce.

If you hold any of the following licenses or are a driver of the following list of vehicles that fall within DOT criteria,
YOU are required to have a DOT physical:


Commercial driver's license (CDL)
Hoisting license
Hydraulic license
School and commercial bus drivers
Limousine drivers
Box truck drivers
Tow truck drivers
Landscapers
---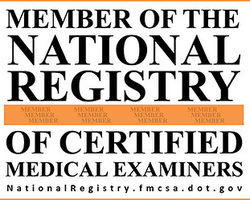 About the DOT Exam
A DOT physical examination is conducted by a Licensed Medical Examiner who has completed training and has successfully passed a test on the new Federal Motor Carrier Safety Administration Program (FMCSA).
A DOT physical exam is valid for up to 24 months.
DOT medical cards will be provided
immediately
after successful completion of the examination.
Cost of the DOT Exam
is $90.00
Insurance is not accepted for DOT physicals and payment is due at the time of visit.New Federal law (Effective May 21, 2014) requires drivers of commercial motor vehicles to receive and pass regular physical examinations. The DOT physical exam can only be performed by a Certified Medical Examiner. These DOT physicals are highly regulated for the drivers' safety and reflect physical, mental and emotional issues that may affect a driver's ability to safely operate a commercial vehicle.Your DOT exam will include the following components:
Past or recent illnesses or injuries.
Review of current medications, including controlled substances.
Review of any current or past medical conditions such as heart disorders, high blood pressure, diabetes, etc.
Physical exam.
Blood pressure & pulse.
Vision acuity test.
Hearing test.
Urine dip screen.
Kasper report and possibly a urine drug screen, if taking controlled substances.
If needed, additional tests for cardiac, pulmonary and/or respiratory conditions.
The basic requirements for passing a DOT physical exam under the new standards are:
At least 20/40 correctable vision in each eye as well as both combined. Glasses or contacts are allowed.
Needs to be able to distinguish colors found on traffic signals.
Forced whisper test to detect adequate hearing.
Controlled blood pressure under 140/90. Prescription medication may be used to control blood pressure.
Cannot have diabetes that requires insulin injections.
Maximum blood sugar level allowed is 200.
No use of a schedule I drug (controlled substance), amphetamine, narcotic or habit forming drug.
For any exemptions for vision, diabetes, etc. , please bring the exemption to your physical exam.
Before you arrive at our office for your DOT exam, please do the following
:
Arrive about 20 minutes early to complete necessary paperwork.
Bring your completed DOT Form to your visit along with your driver's license and pocket certificate. You can download the form and complete your portion by clicking here.
Bring your glasses, contacts or anything you routinely use for vision.
Bring a list of all of the prescription medication that you take including over the counter medications.
Bring a list of doctors that you see and their phone numbers.
Take any required medications prior to your visit, including blood pressure meds.
Drink plenty of water. You'll be required to give a urine sample to screen for kidney problems.
If you have any of the conditions below, bring the requested items.

Diabetes – Bring a list of medications and the name of your prescribing doctor. Bring copies of your blood sugar results or hemoglobin A1C results from the past 3 months.
High blood pressure – Bring a list of medications and the name of your prescribing doctor.
Heart condition – If you've had a heart attack or cardiovascular disease, bring a copy of your last stress test or release from your cardiologist.
Sleep apnea – Bring a copy of your latest sleep study results if you have one.
Passing or Failing your DOT exam:
The most common reasons for failing a DOT physical are high blood pressure and uncontrolled sugar in your urine. Both conditions can commonly be controlled and managed.
Another reason for failing a DOT exam would be having any condition that would cause a loss of the ability to operate a commercial vehicle safely, including the loss or impairment of limbs, poor vision, insulin controlled diabetes, high blood pressure, heart disease, epilepsy, mental disorders or use of certain drugs.
DOT medical cards are typically issued for 2 years. However, your medical examiner may issue a card for one year or less, if you have a medical condition that requires monitoring, such as hypertension.
If you fail your medical exam, your medical examiner may issue you a 3 month medical card and have you return for further follow-up, to be sure that your medical issue is now controlled.
Drug testing is not a typical part of the DOT exam but may be required by your employer.
---
Driver Medical Exemption Program

The Federal Diabetes and Vision Exemption Programs have specific requirements, as well as requests for hearing and seizure exemptions. These requests may include medical exams, employment history, driving experience and motor vehicle records which must be submitted with the application. The Agency will make a final decision within 180 days of receipt of the complete application.
Applying for an Exemption
An individual may apply for an exemption from the diabetes, hearing, seizure and vision standard, section
391.41
(b)(3) and
391.41
(b)(11),
391.41
(b)(8) or
391
(b)(10) of the regulation, by utilizing these programs. If you do not currently meet the diabetes, hearing, seizure and/or vision standard and are unable to obtain a medical card, you may be an eligible candidate.
Please note that all exemption programs are for drivers who intend to operate commercial motor vehicles (CMVs) in interstate commerce. FMCSA does not have statutory authority to grant waivers/exemptions to drivers from states' intrastate requirements. Therefore, the FMCSA waivers/exemptions do not permit regulatory relief for drivers who plan to limit their operations to intrastate commerce.
Diabetes PackageVision PackageHearing Package